Although Amazon has quietly done away with their "Add-On" program (which required a minimum purchase of $25 or $35 before an order would ship), there may still be occasions when you are looking for items with a low price and free fast shipping.
Amazon Prime members are familiar with fast free shipping on thousands of items, but often these products have a higher price tag than many grocery and drugstore items. However, there are some great affordable surprises to be #FoundOnAmazon!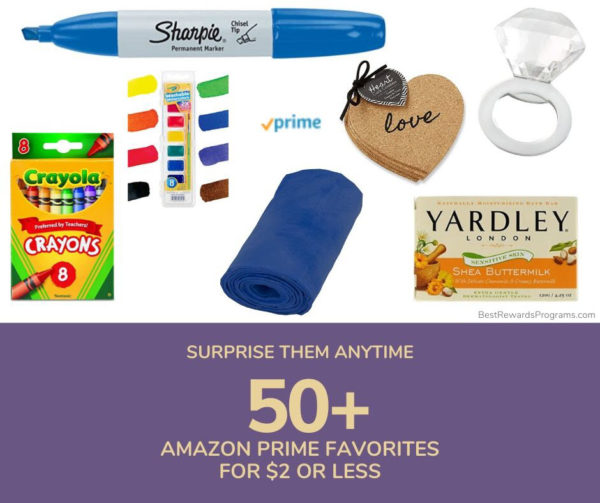 Whether you want a low-cost way to surprise someone, are using up a balance on a gift card, or have some other reason for needing quick and cheap items, your list is below.
Enjoy the variety of great Amazon Prime values! If you are not already a member of Amazon Prime, click here for a free 30-day trial offer of Amazon Prime.
51 Amazon Value Items Under $2.00 Each
The value items are organized below by category to easily find cheap Amazon items by type.
Note and please understand that product prices are set by independent retailers and the prices will change over time. At time of article publication, all items were priced at or below $2.00 each (and include free Prime shipping for Amazon Prime members).
Accessories from Amazon under $2.00
These practical items are affordable and very helpful items to have when you need them!
Instant / Express leather boot and shoe shining sponge provides an easy, portable way to keep your shoes looking fresh and clean. Multiple colors available.
These oval shoe laces are designed to always stay tied and prevent fraying. Black color; made for 7-9 eyelets.


This 13-Pocket expanding file organizer measures 10″ x 5″ and is perfect for keeping receipts organized by week, month, or many other ways!


These shaping tights have a control top tummy area to smoothe out tummy and hip areas.
Multiple sizes and colors available.


These mini cooling bandana towels measure 2″ wide and can help to keep you cool on a hot day.
Multiple colors available.


Craft Items from Amazon under $2.00
These craft items can help create, craft, wrap, and hang many unique works of art. Send a child or budding artist in your life a notebook and some markers for a quick and easy surprise for under $5.
This set includes 2 innovative Crayola glue sticks (.29oz each) that go on blue and dry down to a clear color. Safe, non-toxic formula is for kids ages 3 and up.


This 8-count pack of Crayola Crayons includes classic colors to inspire old an young generations.


This set of 8 watercolor paints is housed in a covered palette and includes a paintbrush too! Safe and non-toxic for kids aged 5 and up.


Label the fine print and small details with this red ultra fine point Sharpie brand marker.
Multiple colors available.


Sharpie marker with chisel tip for precise writing and labeling.
Multiple colors available.


Keep your notes handy with this package of Oxford self-stick 3 x 5 white index cards. 100 ruled note cards.


This blank book has 8 pages / 16 sides to allow for creative expression and illustrations. Quick and easy art supply with endless options!


This Steno notebook has green paper and measures 6″ x 9″ for convenient note taking on the go.


This 180 foot roll of performance masking tape is a light-duty tape that is great for holding, labeling, and bundling tasks.


This adhesive putty from Scotch can handle a variety of mounting need and is easy to remove when needed.


These mounting putty tabs mount to multiple surfaces and can hold up to one pound each (great for classrooms).


Glam up dozens of packages with 66′ of curling iridescent ribbon!
Multiple colors available.


This purchase includes 350 yards of purple curling ribbon.


Home Products from Amazon Under $2.00
These household items are super affordable and useful around the house.
This solid air freshener from Glade provides room / area deodorization with a Lavender & Peach Blossom scent without the need to worry about open flames from candles.


Set of brass hardware hooks to easily hang art for display.


Add versatile storage in small spaces with this classic stylish hook and store coats, hats, purses, reusable shopping bags, umbrellas, and more!


These S-biners come in a variety of sizes and colors to solve connecting and hanging problems. Connect water bottles to bags, hang grocery bags, clip keys to a handy place, and much more!
Multiple sizes and colors available.


These portioned Ziploc food storage containers are great for on-the-go snacking and other organization projects too!


This heart shaped set of Kate Aspen "Love" cork coasters are simple, chic, and functional!


Natural looking wine stoppers have a wooden top and synthetic cork to protect your drinks.


Novelty Items from Amazon under $2.00
These fun items will bring a smile that is worth way more than their low cost.
These lightweight combo keychain / bottle openers can both hold on to your keys and help open your drinks too!


Set of 23 whimsical, colorful crispy, delicious bacon in cartoon form.


Popping bottles has never been so glam as when they're popped with this Kate Aspen Shine Sparkle & Pop! diamond bottle opener.


This Dragon Queen body stencil from Wet N Wild makes bold looks a breeze!


Personal Care Items from Amazon under $2.00
Some of these great products cost about the same as a postage stamp and include free shipping! Take advantage of great values on a wide variety of affordable personal care items from Amazon Prime.
This versatile eyeshadow brush is a short, flat, slightly stiff brush with a rounded head made of pony hair. Helps create precise definition around the eyes and works well to apply powder eye shadow as eyeliner.


This crease brush from cruelty free brand Wet N Wild is designed to pick up eyeshadows to apply to the crease of the eye and blend them with ease.


Use this Gold Bond Original Strength Body Powder for cool, refreshing deodorant protection and to help relieve / prevent skin discomfort.


These combo flossers and toothpick come with their own carrying case to keep them clean in your bag. Travel case can be refilled with Plackers that can be found in larger packages.


This Oatmeal and Almond Bar Soap from Yardley provides an aromatherapy experience while softening skin. The warm natural scent is a classic favorite.


This Naturally Moisturizing Bath Bar from Yardley London has a nature inspired shea buttermilk fragrance and is suitable for sensitive skin.


Gently moisturize skin with the 3.5 oz Cocoa Butter Ambi Skin Care Cleansing Bar.


This 3 pack of Dial Deodorant Bar Soap has a classic scent and antibacterial properties.
Multiple sizes available.


This package of super small zip-close bags is helpful to carry a weekend's worth of vitamins and have white areas on the front for easy labeling!


Glam up fingernails with Hard as Nails color in "Cold as Ice" or one of their other on-trend shades.
Multiple colors available.


The Doctor's BrushPicks Interdental Toothpicks help clean the mouth and remove food debris.


This travel friendly styling get from Got 2b has a non-sticky formula and a strong hold.


For those who find relief from naproxen sodium, keep this small stash of Aleve tablets handy for your pain reliever / fever reducing needs.


Treat hair to this repair treatment from Pantene to help repair damaged hair and prevent split ends.


This nail clipper from Revlon has a curved blade for safer trimming and grooming nails at home. Includes a small file folded away inside.


Pet Products from Amazon under $2.00
Spoil a furry friend with these portable packs of dog and cat treats that are sure to be loved by pets!
These treats for dogs are easy to take with you on walks, to the dog park, and even in your backyard!
Multiple sizes and colors available.


Spoil your dog(s) with these peanut butter covered sweet potato fries treats.


These healthy dog bones are highly digestible and made with vitamins and minerals to promote a healthy lifestyle!


These three plush mice are spiked with potent catnip to be irresistable to your cats.
Multiple colors available.


Travel Items from Amazon under $2.00
These pocket sized items are great when you want to pack lightly, but still have the essentials you need.
The classic "churchkey" design of this bottle and can opener is made of stainless steel for effortless bottle / can opening and a durable, long-lasting life. Small and lightweight, this opener is great for tailgating and traveling.


Protect your toothbrush from your other belongings (and vice versa) with these handy toothbrush covers.


This travel size Laundry Stain Remover Spray from Dreft is the perfect size to keep handy for unexpected spills and stains.


***
For more great Amazon shopping ideas visit:
***
Amazon.com offers Free Shipping for Prime Items for Prime ($119/year) members. Amazon.com offers Free Returns on specially marked products. New users are eligible for a free 30-day trial of Amazon Prime and students are eligible for a free Prime Student 6-month trial.
***
Are there any other great values that you have recently #FoundOnAmazon? What is your favorite thing about Amazon Prime membership?