Kids Eat Free at Black-eyed Pea
Enjoy family meals together with less budget strain with this Kids Eat Free offer from Black-eyed Pea.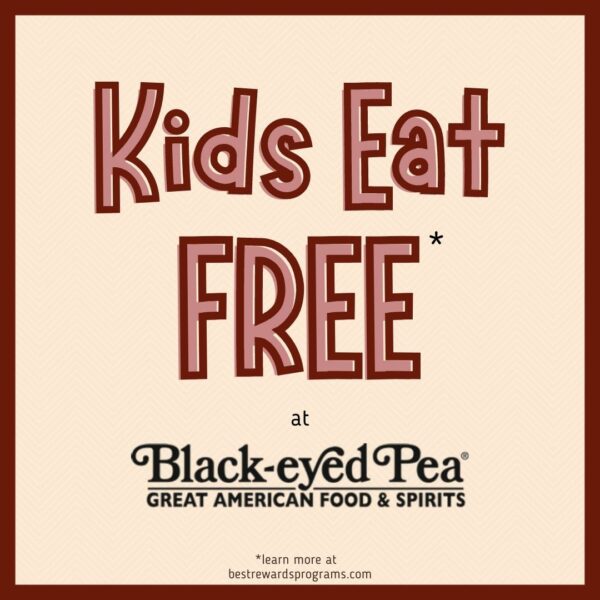 It's easy to find great family-friendly restaurants when you go to places that offer incredible kids meal deals!
Note that restaurants reserve the right to change or end their offers at any time. Please confirm the offer is valid at your local restaurant before making your trip and/or order.
Quick Article Navigation:
Kids Eat Free Offer at Black-eyed Pea
Enjoy a well-deserved night away from the kitchen with this money-saving deal where the kids eat free at Black-eyed Pea.
How Kids Eat Free at Black-eyed Pea
Bring the kids to Black-eyed Pea for this great offer where kids eat free on Tuesdays after 5:00 pm.
WHO • kids and under
WHAT • kids eat free with adult entrée purchase
WHEN • Tuesday after 5:00 pm
Note that guests receive a maximum of one free kids meal per adult entrée per table.
Offers may be changed by the restaurant at any time — always confirm the offer is still valid at your specific restaurant location before making your trip.
More Ways to Save at Black-eyed Pea
It's already a great deal to get a free meal for kids, but don't stop there when you could enjoy even more restaurant deals! These money-saving ideas can help you save money at the best family restaurants on family nights out!
Purchase Discounted Black-eyed Pea Gift Cards
While many restaurants only allow one promotion per table, it is often still possible to squeeze in an extra discount.
Gift cards spend like cash at a restaurant, and if you can buy gift cards for less than face value, you can add more savings to your night out! Visit online gift card discounters like raise.com to browse their current selection of discounted Black-eyed Pea gift cards.
Join Black-eyed Pea Customer Programs
Another way to save at kids restaurants is to join customer programs that regularly send offers and rewards to members. Look for special restaurant programs, including mailing lists, e-newsletters, birthday clubs, reward programs, and smartphone apps.
These opt-in programs provide money-saving benefits throughout the year, including signup bonuses, member specials, and annual birthday gifts.
Follow Black-eyed Pea Online
Learn about the latest restaurant offers by visiting and following their online channels and relevant hashtags.
See the latest Black-eyed Pea news and offers on the official website (theblackeyedpea.com) or on social media.
#bephighlands #bep_catering_dfw
***
Find more great deals at kids restaurants on the MASTER LIST of KIDS EAT FREE offers. Learn more about additional restaurant discounts at: